Classroom Cards
Any Teacher or Summer Care organization can apply for a classroo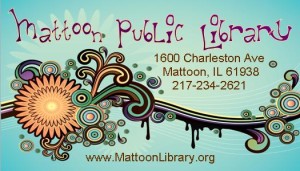 m card.  This is a special library card for program use only. Classroom cards are just like standard library cards but have higher checkout limits, and give the user a way to keep their personal library use separate from their work use.
Rules for classroom cards are just like standard library cards.  Due dates must be adhered to, damaged or lost items must be paid for, etc.
There are a few special rules for classroom cards.
Special Rules:

The requestor must show Photo ID
The requestor must show proof that they work at the given in-town organization

If the organization resides outside the city limits of Mattoon, they must pay for a Non-Resident Library card.

The requestor's personal library card and that of anyone linked to their account must be free of fines.

A Classroom Card will be linked to a requestor's personal library card until such time as the card is deleted or the person no longer works at the originating organization.

Classroom Cards can only be applied for in person at the library. They cannot be issued over the phone, or online.

Cards will be issued and are usable at the time of issue, but the card itself will be mailed to the organization.